The Christmas Party 2021 was a little quieter than we had all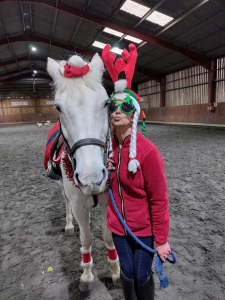 been used to in previous years. Happily, what it lacked in the number of attendees was more than made up for by a bigger appreciation of all the key ingredients of a fabulous party-games, awards, cake and Father Christmas-which we had missed so much last year.
All of the ponies, riders and volunteers put on some festive sparkle for the afternoon and everyone enjoyed the competitive games.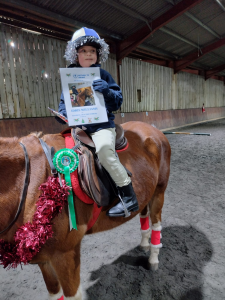 Each of the riders was awarded a certificate which recognised what they had achieved since returning to riding in September and Santa had a special message for every rider too. Volunteer Julie Watson also received a certificate in recognition of her 20 years of volunteering for the group. And then cake at last! A proper Christmas cake beautifully baked and decorated by the ever-talented Jenny Brown.