After a busy summer preparing to re-start our riding sessions at Plumpton College we finally got our first riders back on board on the 15th September.
Initial nerves of riders, volunteers, parents and trustees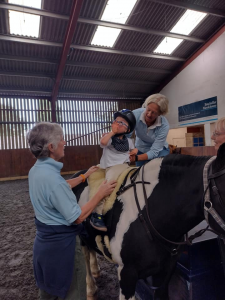 were soon forgotten. Our ponies were foot perfect and they, above all, were the least affected by their 18 month break from RDA.
The afternoons have been running smoothly, albeit with fewer riders for the time being and without the fuel of cake and cups of tea. The trustees remain cautious and are keen to keep sessions as socially distanced as possible to keep the riders and our volunteers as safe as we can.
After the enforced 18-month break some of our riders decided not to re-start whilst others have grown- as children do!- beyond the capacity of any of the equines we currently have available for our sessions.
Also a few of our smaller young riders, who prior to lockdown had been physically lifted on to the pony,  continued to grow over the 18-month break but have become too heavy to be safely manually lifted even though they remain well within the weights the ponies can accommodate.
For these riders the great news is that the group has been so fortunate to receive the brilliant donation of a hydraulic lift platform from our patron, Dane Rawlins. This lift will enable these children to get riding again and enjoy all the physical and mental wellbeing benefits the weekly sessions bring to them.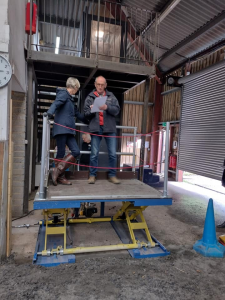 Trustee John Jackson has been instrumental in setting up the lift for weekly use and training volunteers. Plumpton College have been hugely helpful, facilitating a change in access to the indoor arena and a new power supply. We are finalising the acclimatisation of the ponies to the new equipment and are on schedule to be fully using the platform early in 2022. It will enable the group to consider riders who we previously could not mount so it is a truly wonderful and transformational gift for the group.
The group has been very grateful for the financial support it continued to receive from doners during the enforced lockdown. This support allowed the trustees to plan for the return to riding with confidence even in the depths of the uncertainty caused by the pandemic which has affected others so profoundly.